As my readers know, I am an enormous progressive rock fan.  Now, as all my readers also know, Yes is, by far, my favorite band (you can read more of my writing about Yes here), but my second favorite vacillates, depending on the day, between Genesis and King Crimson.  As I am too young to have seen Genesis in their progressive rock prime, I have taken the opportunity to see their world class recreation band The Musical Box several times about which you can read about here where I include things like concert reviews, tickets, tour books, and the like.
When Genesis was in its prog rock prime, their lead singer was none other than the great Peter Gabriel.  Peter Gabriel gained a lot of notoriety by dressing in costumes to represent the themes and/or characters in the Genesis songs to bring those characters to life.  Some of his masks and costumes became strongly identified not just with Gabriel but with the music itself.  After having seen some of these costumes up close at The Musical Box shows, I began investigating into how many different costumes and masks Gabriel would don during his years with Genesis.
In the summer of 2016 Gabriel went on tour with former Police singer Sting for a joint tour called the Rock Papers Scissors North American Tour.  Instead of each performing separately, Sting and Gabriel were both on stage with their respective bands at the same time for the entire show.  The set list for the show alternated between Sting songs, Police Songs, and Gabriel songs.  Notably absent were Genesis songs as Gabriel has, unfortunately for the fans, more-or-less left Genesis behind when he left in 1975, and has almost never looked back.  The only nod to Genesis in the set list were the first few lines from "Dancing with the Moonlight Knight," but those lines were sung by Sting not Gabriel.  Since 1975, Gabriel has all but extricated himself from Genesis.  By all reports, there is no bad blood between the Genesis members (indeed Phil Collins (Gabriel's replacement in Genesis) was Gabriel's best man at his wedding in 2004).  Gabriel just, for one reason or another, feels he needs to move on from Genesis and cut ties from that music; indeed (again), he did not even appear at Genesis' induction into the Rock and Roll Hall of Fame in 2010!  Some interviews make it seem like Gabriel looks at his time in Genesis as an embarrassing youthful time in his life that he cringes about when he sees photographs.
Since his departure in 1975, Gabriel's connections with Genesis have been very very thin and rare; they are as follows: (1) in 1979 he joined Phil Collins in singing "The Lamb Lies Down on Broadway" at the Reading Festival (see here); (2) in 1982 he performed a benefit concert with Genesis for his charity WOMAD called "Six of the Best;" (3) in 1983 Gabriel had an impromptu performance of "I Know What I Like (In Your Wardrobe)" at a (former Genesis guitarist) Steve Hackett show (see here) which also included Genesis member bassist Mike Rutherford; (4) in 1998 he helped touched up his old live vocals in the studio for the release of The Genesis Archive 1967-75; and, (5) in 1999 he recorded "The Carpet Crawlers 1999" with the band for release on the compilation album Turn it On Again: the Hits.  This is why what happened on July 24, 2016 is so significant.  On the last date of the "Rock Paper Scissors North American Tour," Gabriel, instead of Sting, sang those few lines to "Dancing with the Moonlight Knight (see here)!  This was a very exciting moment to Genesis fans all over the world as it is only his sixth nod to Genesis in over 41 years.
Gabriel's recognition of Genesis, however brief, inspired me to resume researching the costumes and masks Gabriel would wear with Genesis.  After spending some time, I think I can finally create a comprehensive list.  To that end, I think the photograph list below represents, for the most part, all of the various looks Gabriel had during his years with Genesis.  If you know of, or have found, any others, please let me know in the comments section and tell me where to find them.  When I get them I will add them to this list.
Thanks and enjoy!
Hair (reverse Mohawk)
Standard face paint.
Foxtrot for "The Musical Box"
Old Man from "The Musical Box"
The Watcher from "Watcher of the Skies"
Beginning of "Supper's Ready" (black show only)
Flower from "Supper's Ready"
Jesus crucified from "Supper's Ready"
Magog from "Supper's Ready"
Jesus resurrected from "Supper's Ready"
Britannia from "Dancing in the Moonlight Knight"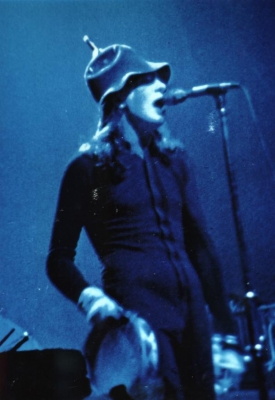 Lawnmower from "I Know What I Like (In Your Wardrobe)"
Gang member from "The Battle of Epping Forest"
Rival gang member ("Reverend") from "The Battle of Epping Forest"
Rael, the main character in The Lamb Lies Down on Broadway
Slipperman from The Colony of Slippermen
Lamia from "The Lamia"
"Death" during "The Waiting Room"
Worn for a photo shoot only (never for a live performance).
Decorative flower (never worn)
You can find most of these in action here: